Learning a new language is not easy. You have to memorize new vocabulary, learn new grammar, practice speaking new words, and work on your fluency and so on.
Imagine if you can get something that can make all these work easy. Yes, you heard it right.
Today, I am going to review Mondly, a language learning app that will not only help you to learn your 2nd language better but also give you an in-depth insight into that language completely.
So, let's get started…!
Overview:
Mondly is a language learning platform that claims to help you "learn a language quickly & effectively than anyone else". This is founded in the year 2013 by the Alex Iliescu and Tudor Iliescu. The company is based in Brasov, Romania, and currently supports 41 languages learning.
Well, the team behind the app is continuous growth, as they are currently having more than 40 million users stated by Mondly. This holds a unique tactic to learn a language in any combination, this means you don't necessarily require learning from English.
The Mondly app focuses on phrases and real conversations than that of words and uses the combination of course materials, augmented reality (AR), and chatbots to master a new language.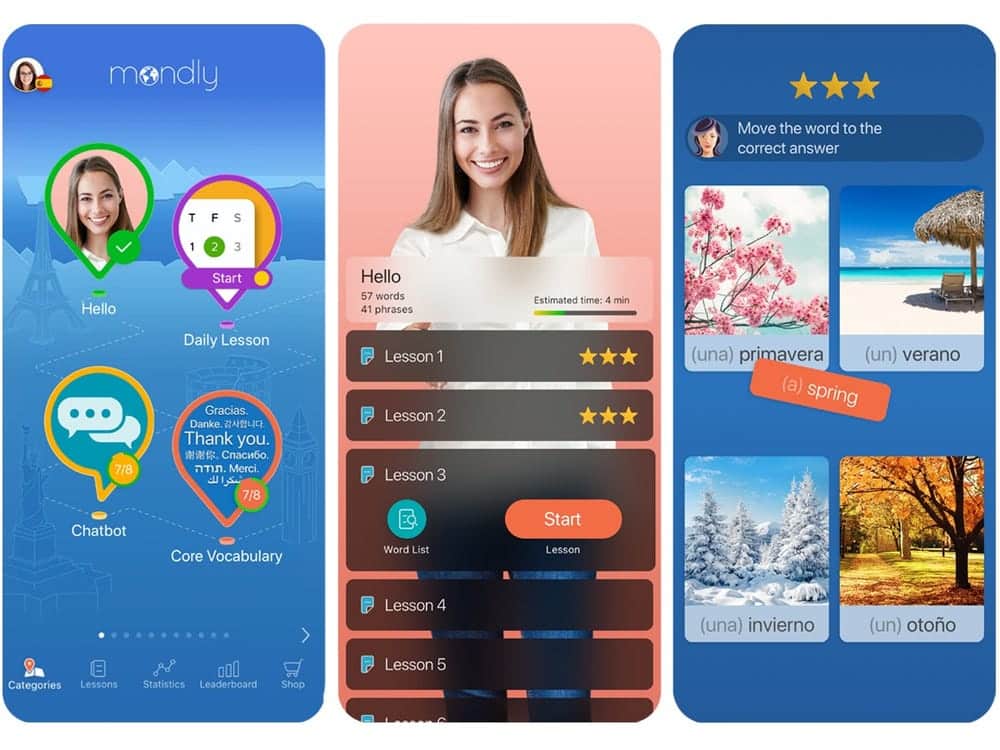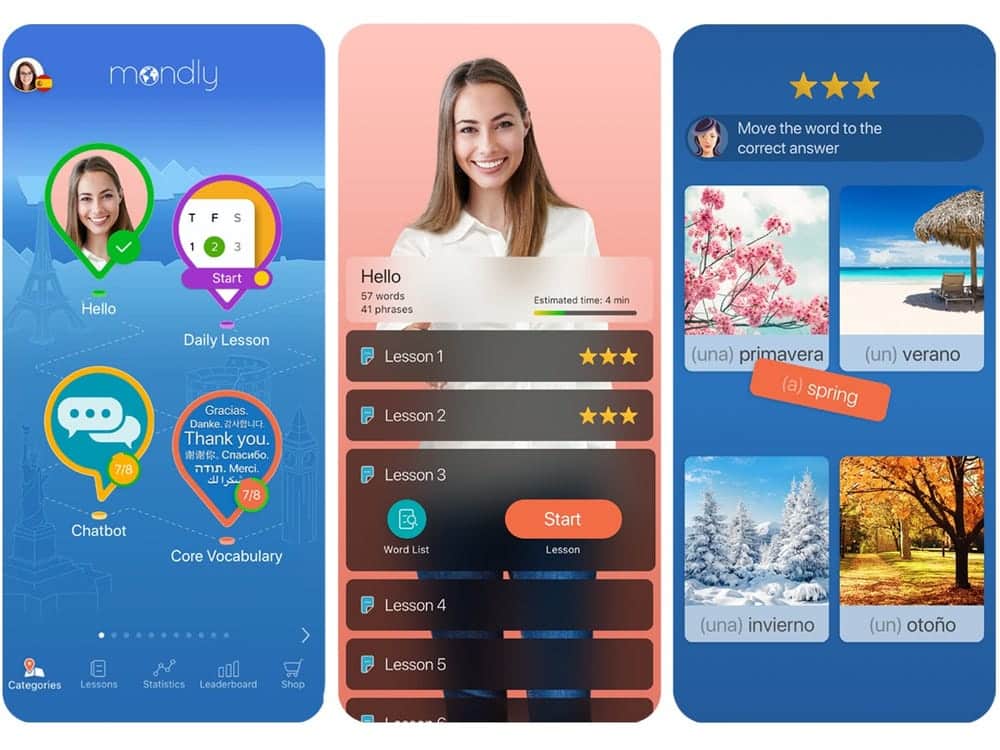 Some of its features are free of cost and to access the full suite of Mondly, one needs to pay that I'll explain later.
What Languages does Mondly Offer?
Mondly offers 41 languages and can be learned in any combination.
You can learn 41 languages with Mondly in any combination. Such as learning French through Portuguese, Russian through Thai, and other best combination that meets your requirements.
Spanish,
American English,
British English,
French,
German,
Portuguese,
Italian,
Russian,
Norwegian,
Danish,
Dutch,
Swedish,
Arabic,
Korean,
Japanese,
Chinese,
Greek,
Romanian,
Vietnamese,
Indonesian,
Hindi,
Hebrew,
Polish,
Bulgarian,
Ukrainian,
Hungarian,
Czech,
Croatian,
Finnish,
Persian (Farsi),
Thai,
Afrikaans and
Turkish
So, moving ahead in this Mondly review, learn the features it offers.
What Features Mondly Offers?

The designers of Mondly tried hard to diversify the language learning experience. Well, this is the reason this holds more than 40 million users.
So here the best features of Mondly:
Everyday use: Alike other language learning apps you can carry Mondly everywhere in your pocket. It is very convenient as just sparing five minutes you can and squeeze the language learning into your day.
Also, this provides short but frequent lessons. It provides the users "daily lessons" with the sentences and new vocabulary in the targeted language. And the best part is everything you learn is recapped at the end of class and you can easily go back and review it later.
Reminders: Apart from the daily lesson, you will also get daily reminders as notifications. This can be set to appear at a convenient time. You can set a reminder if you prefer learning in the morning or studying on lunch break at 1 p.m.
This also keeps you informed on how well you are maintaining the daily study routine.
Translate into your L1: Mondly inspires learning and translating between mother tongue or the language you are fluent in and the language you want to learn. It is done through typing, speaking and selecting the words from the list.
Also hear the words spoken in the target language so, that you easily related the written word with spoken ones. This makes the whole learning process a bit easier.
Daily lessons: It keeps up the language practice by providing daily lessons. You will learn the language fast through "game-like" exercises and introduces new words, vocabulary, phrases. This makes the second language learning process entertaining.
Offers different learning methods: Learning a new language can feel a bit boring at times. And this why Mondly combines daily lessons designed for users. It covers various topics and levels to learn a new language easily. Also, the learning methods are different every time so that you won't get bored.
Chatbot: This is designed to imitate the conversation and give you a chance to put the learning language into practice. The app offers the virtual speaker and you are invited to respond to the conversational prompts like general greeting or restaurant role-play.
Though the conversation are far from reality and the speech-to-text functionality is pretty good. In the first try, you need to select the suggested responses and later allow you to think about what else you could say also.
How Does it Work?
Mondly works in a gamified method, different types of exercises are available having different subsections like lesson/conversation/vocabulary. And after the lessons are completed Mondly shows the information on how you are progressing. It also tracks the while you are learning and encourage you to be organized.
Well, the first half of the tutorial is basic and short, you can see it in the given screenshot. This also gives points and show stats and for first learning sessions and to keep learning you can click "Continue".

If using the free account then the options are limited and only access the "Hello" topics that hold six lessons and the daily lesson.

The daily lessons crack every ten hours, and completing an entire week, unlocks the lengthier weekly test. Also missing a daily lesson will not give access to the weekly test.

Well, to write the Mondly review, I paid for the premium account, to unlock the remaining lessons. Here check out included topics:
Hello (unlocked with a free account)
Core Vocabulary
Family
Countries & Languages
Romance
Seasons & Weather
Preparing a Trip
Travel
Vacation Activities
Public Transportation
Food & Drinks
School
Sports
Introductions
Pets
Entertainment
Shopping
Around the House
Grammar 1, 2 & 3
Airport 1 & 2
Hotel: Reservation
Hotel: In the Room
Restaurant 1, 2, 3 & 4
City Tour
Bank
Business
Fun
Help!
Doctor
Emergencies
Animals
Fruits & Food
Colors & Numbers
Parts of the Body
Access all the past daily lessons, daily back to 2015
Chatbot
AR (only available in German, but not Japanese or Croatian)
Well, the given topics appear in a specific order but you can complete them in the order you feel comfortable. While starting the lessons, you get 3 stars and making a mistake remove the star, the same happens with 2nd and 3rd star.

And you are awarded the points based on how many stars left at the end of the lesson. And earning more points, allow you to reach new levels in the app and rank high on the Leaderboard.
What are Different Options Mondly Provide for Learning a Language?
This are the main part that I want to discuss in the Mondly Review. This language learning app offers a variety of options that allow you to learn the language easily and fast.
Know the variety of options included in Mondly:
Mondly – This is the main language learning app created by the company and this review is focused on it.
MondlyWORKS – This Mondly version is available to businesses with bulk subscriptions and dashboards to allow the employers to track the learning process of their employees.
MondlyVR – It is the latest and Mondly's Virtual Reality tool, and is almost similar to Chatbot but using the VR technology put into a virtual situation. So, if practicing the "Restaurant" chat, VR puts you in the restaurant with a waitress.
MondlyAR – This scans your room and uses augmented reality (AR) technology and show the teacher and the stimulation for the words you are learning. This is similar to classroom lecture but here you need to interact with the animations and tapping or getting the walk around give a 360 view.
MondlyKIDS – It is similar to the main Mondly app the only difference is the illustrations used are kid-friendly and funny.
Mondly Latest (Virtual Reality) VR App?
Virtual Reality possibly has a massive impact on the way people study languages. And Mondly's latest Virtual Reality (VR) is new technology and this is the reason there are not many options available.
This is the first language learning app that introduces the VR app and this is the reason more and more visitors are attracted to this.https://www.youtube.com/embed/LUiSutk7Wso?
However, besides this latest feature, the other features are almost the same as other language learning platforms.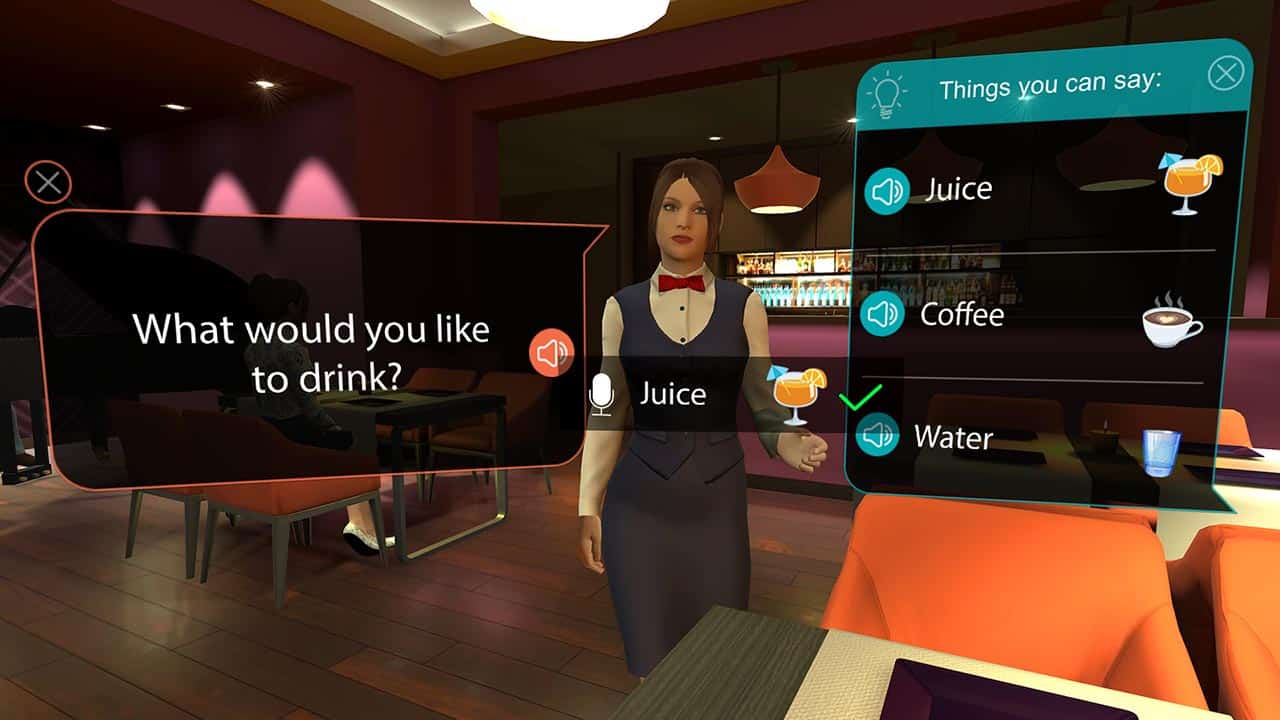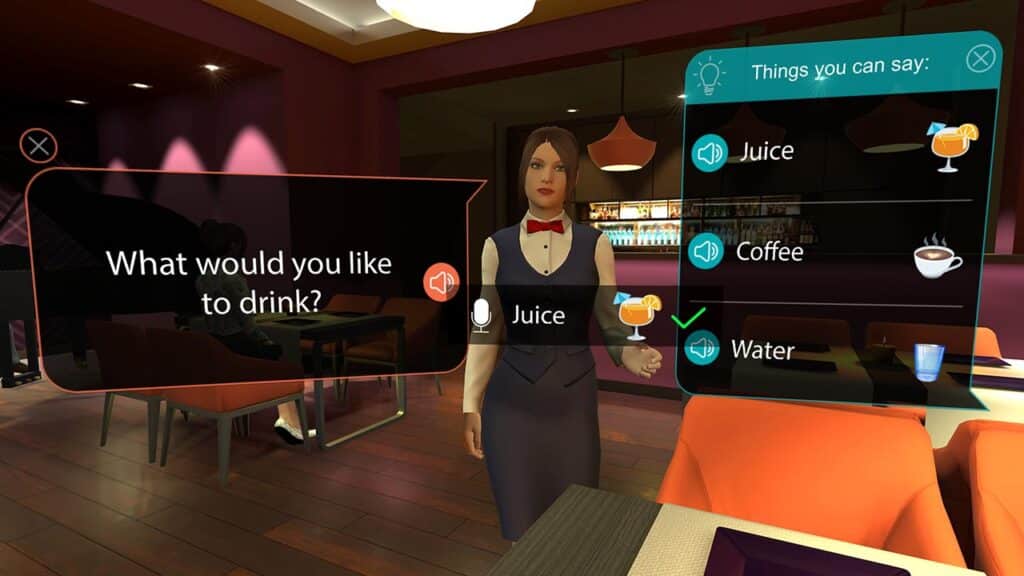 What it's Like Using Mondly VR
I think it is really necessary for me to add this point in this Mondly app review, to let the users know more about the Mondly VR. I am also adding a video to understand the VR app better.

Alike Mondly's other online courses, there are few languages to choose from and every language has the almost same content. And currently, there are three options to study a language. These are:
Conversation
Vocabulary
Multiplayer (Beta)
The main component of Mondly's VR is the Conversation and this is similar to the chatbot. And the vocabulary section is not available for every language yet, the Multiplayer section won't have enough active students to make use of it.
My View of Mondly's VR
Well, I would personally won't use Mondly's VR for studying a language as there is no actual benefit of using it. And also there are many platforms, which I personally think teaches the language better.
This is available at a price of $4.99 and is a onetime purchase only. Well, the price is reasonable so, there is no real risk, you can definitely learn many different languages.
Is Mondly Language Free?
Yes, it is FREE..! In the free account, Mondly offers 6 lessons, 1 conversation and 1 vocabulary with the chatbot conversation.
If you join Mondly as a free user then the features are limited and to access the complete language learning regimen you need to pay for the premium account.
Joining Mondly as a free user give access to:

The first section offers 6 lessons, 1 conversation and 1 vocabulary section along with the chatbot conversation.
Offer 1 lesson daily
Weekly quizzes and monthly challenges
Mondly's premium account gives access to the complete language learning procedure:

Offer 250 lessons arranged into practical topics
33 conversations for daily life situations
Offer 36 vocabulary builders
More than 1300 daily lessons, weekly quizzes & monthly challenges
Speech recognition to check your pronunciation and get instant feedback
Grammar and conjugation tables feature.
Now moving ahead in the Mondly review, know the pros and cons of using this language learning app.
Mondly: The Good
Useful Graphics & Animation: Mondly uses great graphics and animation that create a game-like dynamic and also adds fun to the learning process.
Supports Various Languages: It supports 41 languages that include not-so-familiar but equally interesting ones like Croatian and Farsi.
Transliteration & Voice Over: This provides the option to toggle between the translation and any language you choose. This makes it easy to recognize the word on the screen.
Talk with Native: This is one of the best and unique features that make Mondly add a plus point. Well, this won't give you a native speaker but give you the interaction level with a native speaker (chatbot) trough small conversations.
Free Membership: Mondly provides free lessons to everyone, though this has some restrictions and also the free membership never expires.
Mondly: The Bad
Repetition: This is the main restriction of the language learning platform that gives access to various languages and also incorporates many languages. And Mondly is having 41 languages.
Paid Tool: If looking to take advantage of the full features of the app, you need to take the paid membership. However, the price is reasonable if you take a 6 or 12 months subscription.
Needs Additional Learning (preferable): Well, this totally depends on the language, this problem is seen with the Thai language. To learn this language you require having an understanding of the Thai alphabet to read the words.
Lack of level differentiation: This is a big drawback of Mondly, deeply aimed at lower levels. While selecting different levels for different languages, I found that the beginner's level and the upper-intermediate level are exactly the same.
What Could Be Better in Mondly

Well, after using Mondly, I find that there are certain things that need improvement like it won't teach grammar, the voice recognition feature won't recognize with some languages, articles (a, an, the) is missing, the lessons provided are not in proper order.
To write the Mondly language review, I tried learning Mondly languages like Croatian and Thai. So, here I am sharing my personal opinion on those sections that needed to be better.
The Free version is limited and frequently promoted for upgrading the account to premium.
In the free account, the interaction is very less than that of the premium account, therefore the total time to study each lesson is less.
Mondly won't teach grammar, and this is why the new phrase and difficult to answer especially if the audio is Off.
Also the articles like ("a"/ "an"/ "the") is missing. I found this issue with the Croatian language doesn't know about the other languages. This problem is presented for some words but not the others and as a beginner, it is really confusing.
While doing the exercises you hear the audio sound before you are required to do the exercise. And due to this you won't learn the correct answer based on what you know or have learned.
The audio is too fast and there is no option to slow down like other apps.
Mondly offers the "voice recognition" across all languages, but in the French language, it does not recognize what I say and needed repeating 3 times and after that, it says "Let's move on".
The lesson provided are not in proper order, the basics like colors, numbers, and introductions are to the end of the learning path whereas the topic like Romance are almost in the beginning. However, you can complete the lessons as per your recommendation.
So, these are things that could better in the Mondly language learning platform.
My Experience using Mondly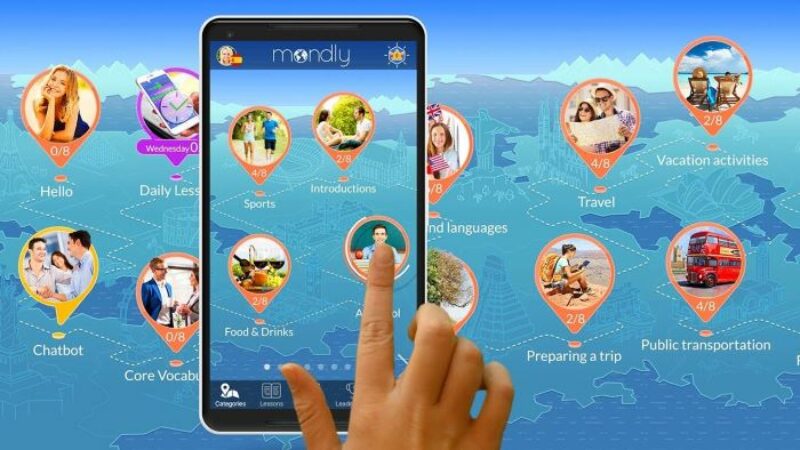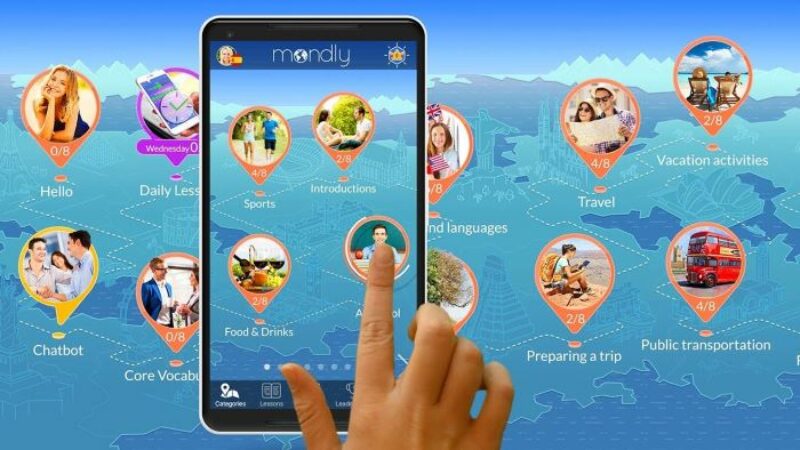 For the quick and fun type learning, Mondly is the Best. And due to this type of gamified learning feature, this attracts the users and holds more than 40 million users.
Mondly allows easy to start getting used to functions is the best thing. Even with the free account, you can easily access the language learning lessons.
Also, the design is very attractive and this is why it makes the platform more engaging. Apart from the design, it is best for anyone looking to learn the basic words and phrases for studying, traveling, working purpose to another country.
It is the best platform for bilingual people who are willing to learn additional languages and perform a quick test on the language they had learned already.
So, as per my recommendation, Mondly app is best even with the free account and the premium as well.
Final Thoughts:
Undoubtedly, Mondly is a pretty good tool and can be used by someone who is looking to learn the basic words in their preferred language.
Mondly is having many useful vocabulary and phrases for the beginner learner and even the intermediate one. So, if you are looking to start or starting over then this is a good platform to go for.
However, there are also a few things in the Mondly language learning app that needed to improve and make it better.
Moreover, its gamified features are best and this is what keeps you engaged and motivated to learn any language. And if any resources keep you motivated to keep on learning and spend time than it is a good resource to go for.
Hope, in this Mondly review, the given information helps you make your decision.
If, Mondly fits you or you would like to give a shot, then try Mondly here.