Yabla Review
Every second language learner gets to a point where they want to start combining TV and movies with their study schedule. This pretty much makes learning less boring.
Now a day's people don't want to learn a language in pen and paper. They want a quick and simple way to learn it.
That's where Yabla comes in. If you are looking for a visual way to learn your second language then read this Yabla Review. It is one of the best video-based language learning apps that makes learning interesting.
Just go through the review of Yabla and decide whether you want to choose it for learning a language or not.
Yabla Overview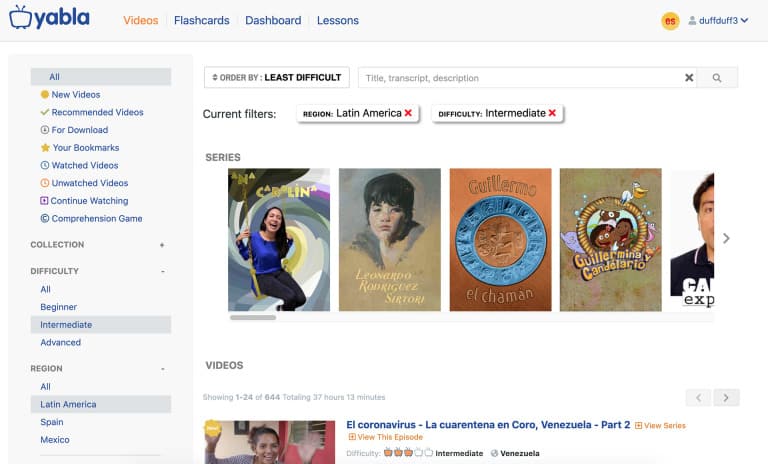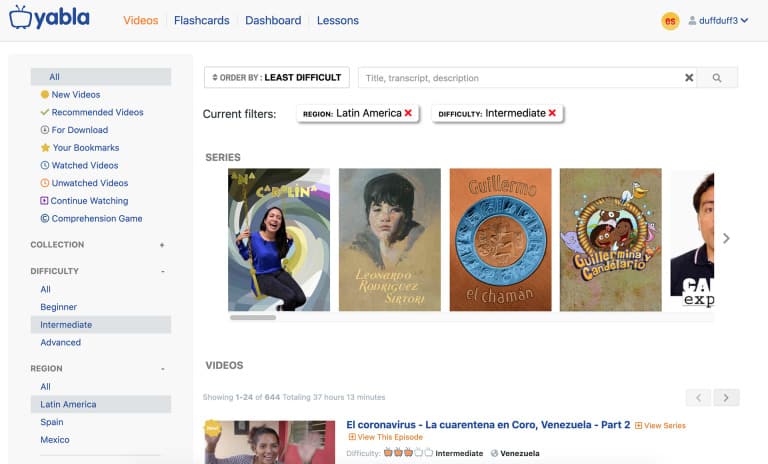 Yabla has both a mobile app and a website where you can watch videos and learn a foreign language. Yabla videos have subtitles both in English and the targeted language.
You can pause, slow down and go back in the video. After every video, there is an option to play the game like an exercise where words will be given that you heard in the video.
Yabla also provides beginners video in series with different characteristics of the targeted language. The important thing about Yabla is that it does not have any proper structure. There is no start of a particular lesson and then carry on to next.
No fixed time to study a particular lesson every day. Yabla allows you to explore and practice the language totally according to your way of learning.
From my point of view without any structure of learning, it makes the video less effective as it could be. As a beginner, an unstructured learning path might be appealing without any guidance but still, a little guide can be helpful.
Languages Offered by Yabla
There is a total of six languages that Yabla offers to learn:
Yabla Content Library of Languages
Yabla offers tons of content for all six languages. The below-given table shows the number of lessons each language has and the estimated time needed to complete it.
| | | |
| --- | --- | --- |
| Languages | Number of lessons | Number of Hours |
| Chinese | 1560 | 81 |
| English | 1826 | 105 |
| French | 1300 | 65 |
| German | 1852 | 104 |
| Italian | 1720 | 103 |
| Spanish | 1833 | 106 |
Features of Yabla
Carrying on my Yabla review there are some features of Yabla that make it different from other language learning programs. Go ahead and have a look at them.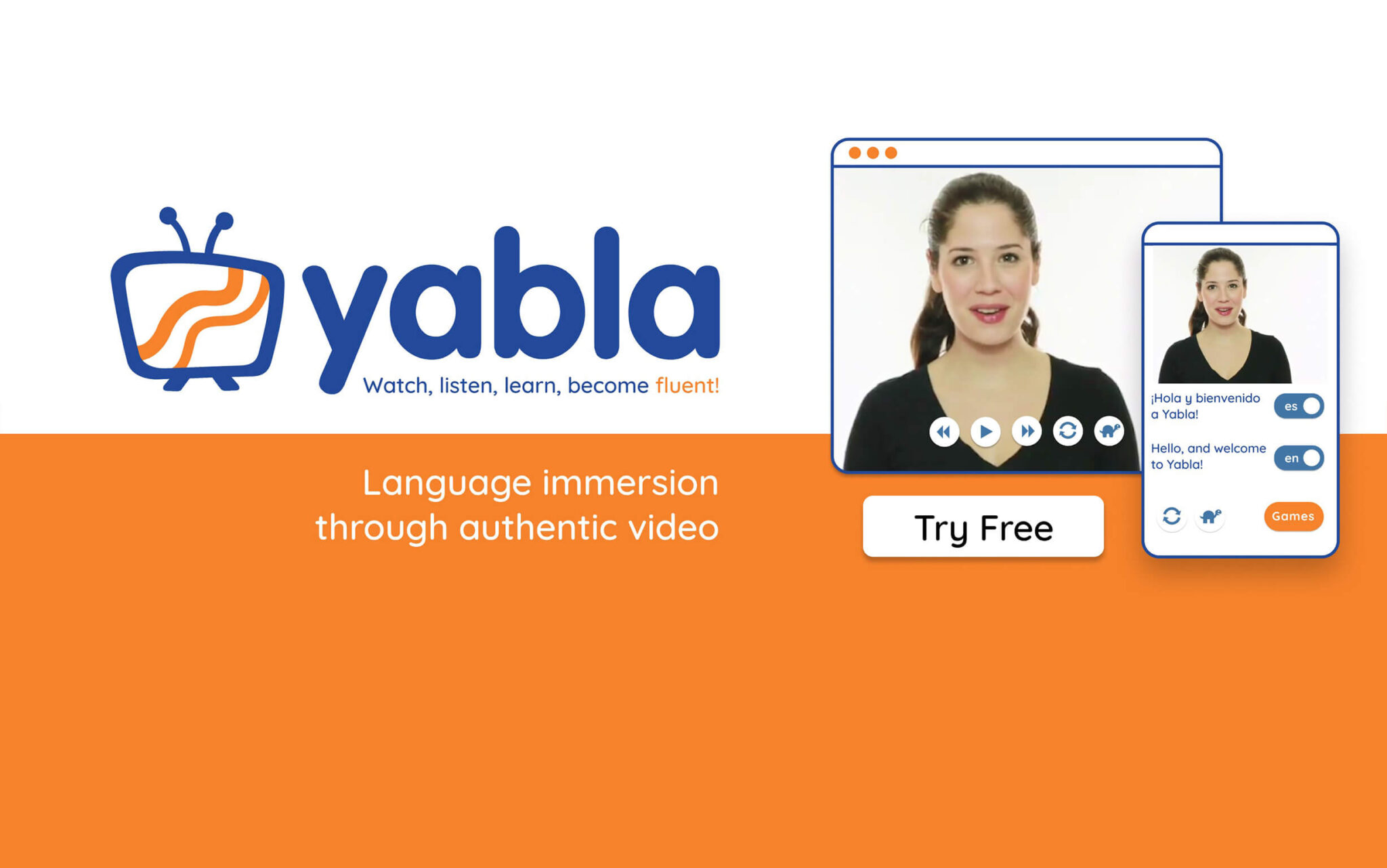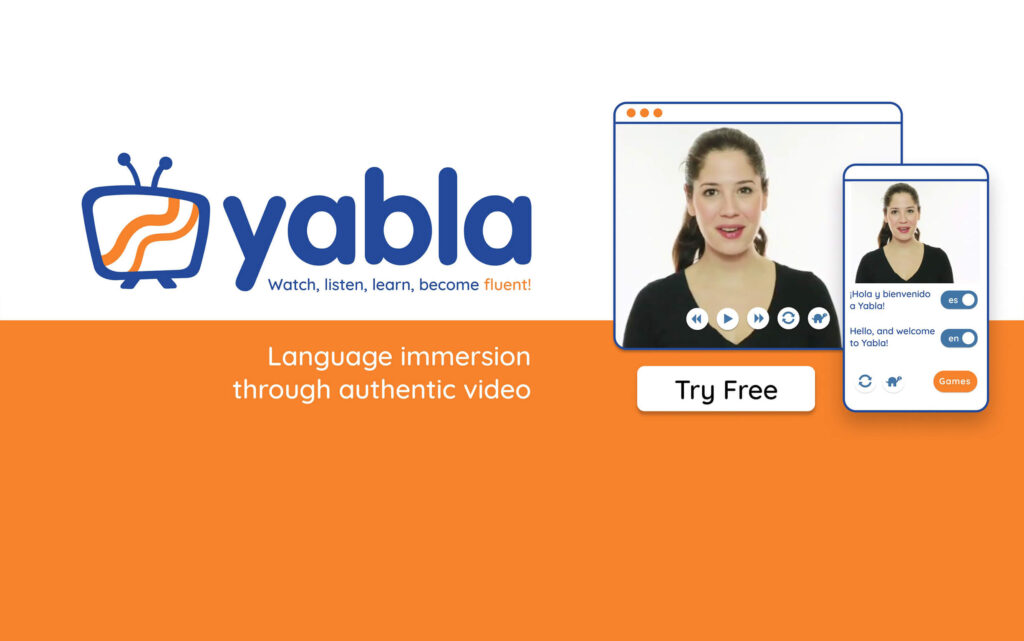 1: Controls
Even after having the pause and play buttons, Yabla also allows you to skip ahead in a video by any phrase and loop a specific section of the video.
Here, the most useful control option is the slow playback button that allows you to watch and listen to the video at a slower speed.
The control's slow button comes in handy when a speaker is talking so quick and fast and you have trouble understanding the video.
Playing the video back at a slower speed is actually a good option to practice.
2: Subtitles & Definitions
The video player of the Yabla language learning app used to display subtitles under the video in English as well as the targeted language. There, you can find the option to show just the two languages subtitles, i.e., English and the language that you are learning.
Also, there you can hide the subtitles of both languages. While the video is in playing mode, you can simply click on the selected subtitles and Yabla will pause the video for you. You can then see the definition of that word to the left of the video player.
3: Games
Another interesting feature of Yabla is that it offers you the gaming interface. The video player has a gaming tab that uses video clips from the videos you were watching before to make mini-games like multiple choice or fill in the blanks.
In such games, you will see that there is a missing word in the subtitles and you have to listen to the video clip and guess the correct word.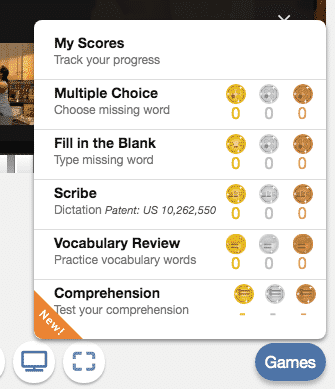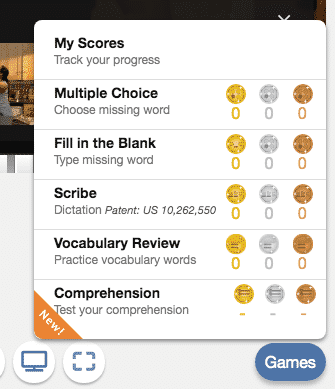 4: Flashcards
Yabla has a special feature that makes it outstanding which is its in-site flashcard system. To use this feature, you have to build flashcard sets each time and watch a video.
While watching a video, when you click on a word, it will be added to the flashcard system automatically. After that, you can go back to the video and review the clicked words with the flashcards.
There the flashcards show the word's text and play the audio dictation. After clicking the word, you will get the correct definition. It seems like a spaced repetition system just like in Mosalingua but not sure about it.
5: Lessons
There is a section on the Yabla site that is Lessons. it is like a short blog that covers vocabulary and grammar parts of the targeted language.
These lessons are not well organized it just gives rough information of the things that are contained in it.
Though the Yabla app is presented in an outdated format it includes video clips of each lesson and demonstrates whatever is in the lesson, which is pretty cool.
How to Get Started with Yabla?
Stay with this Yabla review to know how to get started with this language learning app.
First of all, you have to create an account in Yabla, select a language that you are willing to learn for example French and pay the subscription of French.
After that, you will get access to the whole content of the targeted language. When starting with Yabla, you will see a page with videos that you can divide it by the level of difficulty, region, and topic.
There are three levels in Yabla the beginner, the intermediate and the advanced and it shows the difficulty by rating it 1-5.
In the Yabla app, there is no starting point or any assessment test to check the level of knowledge you have in that particular language. You can select the video and learn at your own pace.
How Does Yabla Works?
When you start a video it's not like 25 minutes per episode. You will get a series of that video divided into small parts to make you understand the language without getting bored.
Just like a TV series that you would like to watch in order. Yabla does the same; it gives you a drop-down menu that will let you watch the next part without discontinuing it.
While watching a video at the bottom of the screen you will see your subtitles both in English and the targeted language. If you want you can hide any one of them.
Any word that you click on the targeted language, the correct definition along with its translation will appear in front of you and that word will go to the flashcard collection.
A small box lines the bottom when you watch a video as it helps you to navigate. They function both to find a segment of dialogues as well as a progress bar for a video. Click on the box to back up a specific line.
Pros and Cons of Yabla
Continuing my Yabla review let's find out some of the pros and cons of this language learning app:Pros
The simplest way to practice a language by watching Entertaining video content
Flashcards that too with videos
Lots of multi-part video series along with exercise
Gaming interface to learn video content
Specified Accent of a native speaker
Cons
Inconsistent audio quality
Weak vocabulary review game
Only six languages are offered.
Low price for the partial program.
Lacks of learning content in lessons
How Much Does Yabla Cost?
Yabla is FREE but only for 15 days and that too for individual learners. YES, that's right. To access the video content, you have to login by filling the payment details for the later subscriptions after 15 days trial.
As soon the 15 days trial gets over you have to purchase a subscription to access all the content of the library.
Per month $9.95
6 months $54.95
One year $99.95
You can cancel the subscription within the 15 days trial to get a full refund.
My Experience with Yabla
As you can see I have tried to describe most of the things in my Yabla review that I experienced using it. There are a few things that I liked and a few that I disliked. Let's have a look at them:Likes
There are Tons of multi-part video series.
Entertaining content that covers a wide variation of topics.
Some beneficial activities to analysis the content from the videos.
Progress bar for a video to see the improvement
Dislikes
Though all the 6 languages have more than 1000 videos, most of them are only of 1-2 minutes
Needs improved design, especially on mobile
Unorganized way of teaching a language
Conclusion
Finally, I would like to conclude that Yabla the language learning platform that is based on video content not only makes the learning interesting but also makes the learning process exciting offering the game interface.
There are some good and bad things in Yabla like the content available for all the languages is different yet relevant and the interactive player is just awesome. But on the other hand, it lacks an organized way of teaching.
As I have tried Yabla and I will recommend it to you but don't go with my saying try it by yourself and see how videos make you learn a language. You won't regret picking Yabla.
Choose the right plan that suits you and make language learning easy for you.
Start the Journey to learn a foreign language and become multilingual.